VARIO
Cordura Espresso Brown Zulu Watch Strap with G-Shock Nato Adapter and Spring Bar Tool
Highly resistant to wear, tear, and abrasions, our CORDURA® straps have been quickly gaining popularity among fans of the NATO strap, and VARIO is bringing you first-class options for styling your wrist. Our single-pass CORDURA® watch straps are made from 1000D CORDURA® –a heavy-duty nylon weave that can stand up to the toughest weather and outdoor conditions and come out unscathed. They are lined with cotton which is breathable, lightweight and comfortable against the skin and prevents  the strap from slipping off your wrist. The fine border-stitching on our bands keeps the design simple yet chic.
Our Cordura® straps are great at supporting large and heavy watches like Casio G-Shock, comfortable on the wrist and this replacement strap will last for many years to come. 
stainless steel buckles 
1000D Cordura® nylon
24mm measuring approx 9.8"/250mm long and 2mm thick*
buckle to first hole approx 163mm
buckle to last hole approx 226mm
machine-washable strap
come with a pair of G-Shock adapter, a set of 16mm spring bars and spring bar tool 
*watch not included*
Our high quality Cordura® watch straps are individually inspected in Singapore, quality and satisfaction guaranteed.  
Works with Casio DW5000, DW5200, DW5300, DW5600, DW5300CV, DW5600/GW5600,  DW6100, DW6200, DW6500, DW6900/G6900, DW9052, G2500, G7900, G8900, G100/GA100/GD100/GDF100, GA110, GA120/GD120, GD350, GA400, GA700, GG1000, G8900, G9100, GW9200, G9300, GW9400, GL7200, GLS5600 and many other (but not all) G-Shocks that feature 16mm lug width. Some models might need modification to the adapter to fit. Does not work with G9000, GA1000, MRG and GST series.
please check out this link for instructions on how to fit the adapters unto your G-Shock
100% Vegan Friendly
*The adapter fits many G-Shock models but not all models. Please check with us if you're not sure if the adapter will fit your G-Shock model.
**We are not responsible for any damage to your watch or yourself during the installation process and any trimmed adapters will not be refundable.
Additional Resources
Casio G-Shock Collection - Reviews - Fitting Guide - FAQ - Guarantee
---
Share this Product
Customer Reviews
100
reviewers would recommend this product
Write a Review
01/28/2020
Anonymous
Australia
I recommend this product
Love it, Good quality and
Love it, Good quality and looks cool on the watch
01/09/2020
Dean
Australia
I recommend this product
Great quality product
I have a factory cordura nato strapped 5600 g-shock, love it, far nicer IMO than the rubber straps and much more comfortable than a bracelet. Thought id buy the conversion kit to swap out my other 5600 to nato, got a few nylon straps and one cordura. The quality of the straps is second to none, the cordura version in particular looks fantastic. They also sent all my straps in a watch roll which was a nice surprise!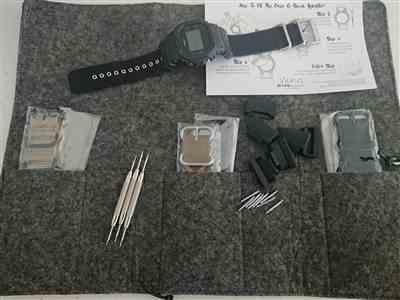 ---
More from this collection