VARIOeveryday
Elastic Nylon Nato Strap Ash Grey / Porcelain Divider
For NATO strap lovers who need a little more flexibility in their lives, look no further than VARIO's elastic NATO strap collection. It provides the strength and durability of standard NATO, but fits snugly on your wrist – plus, you have the option of injecting a little splash of color into your choice of these supple nylon bands. This may be your most comfortable nylon strap ever.
Our Elastic Nylon NATO bands can fit lug widths of 20mm, 22mm or 24mm, and are available in your choice of silver or black buckle finish. Frays can easily be taken care of on these watch bands by briefly holding a flame near the affected area. 
available in 20/22mm 
stainless steel buckles

stretchy elastic nylon
measuring approx 10"/260mm long and 1.6mm thick
machine-washable strap
*watch not included*

100% Vegan Friendly
Our high quality Elastic watch straps are individually inspected in Singapore, quality and satisfaction guaranteed. 
Additional Resources
Elastic Nylon Collection - Reviews - Fitting Guide - FAQ - Guarantee
---
Share this Product
Customer Reviews
02/22/2020
Victor M.
United States
Definitely worth a try
Ok, picture your favorite single pass strap design. Now picture it in elastic, just like the waistband of a pair of undershorts, LOL. That's about as close of a comparison as I can provide. I don't care for leather, as my perspiration will cause them to get funky too quickly. Rubber, even well-ventilated straps, are about equal to stainless. I usually have to switch wrists after several hours just due to irritation. MOST nylon straps I can get by with for the day. They 'breathe' better. These elastics are the next step up. All-day comfort. Now then, after 6-months frequent wear on a pair that I bought, I have found one downside. The holes get frayed far more easily than any other choice. There's no reinforcement around them. It doesn't 'look' as nice ...BUT...it honestly hasn't effected the function. In other words, they're not wallowing out so bad as to tear. That said, I think they are best reserved for your lighter, quartz models.
02/19/2020
Ross
United Kingdom
G-Shock Elastic Nato
I've struggled finding comfortable straps for my G-Shock, with a slim wrist i'm usually between settings of too loose, too tight. This strap solves that issue immediately, securely tight but comfortable, its light weight and uncomplicated with no extra straps some nato's come with. Black finish looks great too. Great product.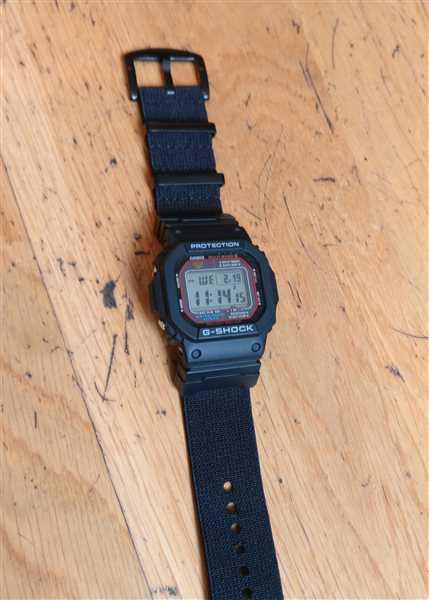 01/20/2020
John W.
United States
12/31/2019
Ben
United States
11/15/2019
Anonymous
Singapore
S T R A P
Looks nice, fells nice, little scared the rubber might loose up ovr time.
---
More from this collection